Sunday, August 31, 2008
Sunday, August 31, 2008 By: Gloria La Riva
PSL Presidential Candidate Gloria La Riva reports from Louisiana
Tomorrow, the people of New Orleans and the wider area again face the possibility of catastrophic disaster. While the government's evacuation is demonstrably better than that of Katrina, the physical damage to homes and the infrastructure could exceed that of Katrina. Storm surges of 18-feet to 24-feet of water are expected. Officials on TV have said that they've strengthened the levees only to Hurricane Category 3 strength, while Gustav is likely to hit as a Category 4. Almost all of New Orleans is below sea level.
| | | |
| --- | --- | --- |
| | In the aftermath of Katrina, New Orleans residents saw hundreds of public housing units demolished, never to be replaced. | |
The for-profit, "free market" disaster response—which resulted in tragedy three years ago—has already again rose its ugly head.
All of New Orleans will be on lockdown this afternoon. 50,000 soldiers from the National Guard have been activated in the region. The police of several parishes, including Jefferson and Kenner, have warned that anyone in the street will be "challenged." During Katrina, Jefferson police shot and killed a group of people driving on the bridge. This morning, the Kenner police chief, Steve Caraway, said, "if you are arrested, you will not go to a county jail. You will be taken to Angola prison." As those around him smirked, Mayor Ray Nagin made the same promise at a press conference this morning.
Yesterday, we visited the Harvey Canal, where construction has quite obviously not been completed. There are still holes in the wall, and the hurricane could thus fill up the Mississippi's west bank. Harvey is the district right next to New Orleans. Despite the major evacuation plan, the federal government's failure to carry out levee strengthening to a sufficient capacity means that the natural disaster's damage will be multiplied due to the government's criminal neglect.
Campaign Organizer Richard Becker and I spent the night and this morning at the house of Malik Rahim, the co-founder of the Common Ground Collective, an organization whose volunteer reconstruction and health programs have served tens of thousands of people. Malik lives in Algiers, which is on the west bank of the Mississippi River in New Orleans. Since the Mississippi runs a twisted and meandering eastward route through New Orleans, the West Bank is actually the South Side. Algiers was not affected by flooding in Katrina, but predictions are that it could suffer major flooding now. Malik, like nearly everyone in New Orleans, has no flood insurance.
Malik is just one example of what hundreds of thousands of people could suffer. Malik's house could be flooded and there is nothing he can do. In some parishes, there were only ten sandbags per household available. All his personal belongings may be destroyed. We are doing what we can in the hours remaining. Most everyone we saw leaving had their singular vehicles filled with family members and small amounts of personal items. People who evacuate have to bring their own bedding and food to the shelter. There's no more gasoline available anywhere.
At Malik's house, we have been loading up several trucks and carloads of tools, equipment, a refrigerator, a stove, a freezer and other supplies. He will first evacuate to Hattiesburg, Mississippi, and then he will travel to wherever the damage is greatest. His plan is to camp with a group of volunteers from Common Ground and begin reconstruction efforts. The volunteers are blocked from entering Algiers right now, so they cannot help evacuate the supplies from Malik's house. Our plan is to drive with Malik to the Lower Ninth Ward with one of his vehicles, where others will leave with him to Mississippi.
After we leave Malik in the Lower Ninth ward, we will head to Baton Rouge, the state capital. We came to Louisiana several days ago and completed the paperwork to get our presidential campaign on the ballot here. It may be very difficult to get to Baton Rouge because of the impending storm, and closed off roads, but Tuesday, Sept. 2, is the deadline to submit to the Secretary of State.
Traveling through the state these last few days, one cannot avoid the depth of poverty and isolation—the profound legacy of racism and oppression that extends far before Hurricane Katrina. A newspaper story in the Louisiana daily paper this week stated that adult illiteracy is as high as 44 percent in New Orleans.
The story that the politicians and pundits are running with is that the governmental authorities have "learned the lesson" of Katrina, and that FEMA is now fully ready for such disasters. But the real legacy of Katrina is not just of governmental incompetence or of a non-existent evacuation plan. Rather, those crimes have been compounded by three years of systematic exclusion of the poor, mostly Black, communities here.
As Louisiana human rights lawyer Bill Quigley recently reported, not a single renter in Louisiana has received financial assistance from the $10 billion federal post-Katrina Road Home Community Development Block Grant. Not a single apartment has been built to replace the 963 public housing apartments formerly occupied and now demolished in St. Bernard. The Gulf Coast became a test case for a massive corporate-controlled gentrification scheme that left the state with 46,000 fewer African American voters.
The corporations—backed by the federal and local government—have indeed learned a lesson from Katrina: that natural disasters are opportunities for immense profit. Can we expect these same institutions to change their priorities, and suddenly decide to put people's needs first?
Needless to say, we have to be prepared for a mighty struggle to make sure that all displaced people of the Gulf Coast be allowed to return, and so that they receive unconditional and comprehensive assistance during this time of hardship.
Saturday, August 30, 2008
Anti-RNC Activists respond to police raids by Lydia Howell Aug. 30, 2008 3pm Minneapolis, MN
Ramsey County Sheriffs Department didn't stop with their raid and shut down of anarchist protest group, RNC-Welcoming Committee's St. Paul convergence center on Friday, August 29. From around 9am to noon, on Saturday morning they crossed the river to hit at least three homes in south Minneapolis.
Activists are calling for the peace and justice community to come to a press conference at 4pm today (Saturday) at the RNC-WC Convergence Center, in St. Paul, to condemn the raids.
Word went out via the Internet and cell phone messages and about 150 activists gathered at Powderhorn Park to share eye witness accounts of the raids and plan the activist community responses.
Eyewitnesses described being made to lie on the floor for hours and that police had a broad search warrant that netted no weapons at all. However, police seized lap top computers, a big laminated St. Paul map, and political literature.
A St. Paul building inspector on the scene closed the building Friday night. After St. Paul City Council-member, Dave Thune expressed objections, the center at 627 Smith Avenue South, at Wyoming, is being allowed to reopen Saturday afternoon.
Four RNC-WC members were arrested and are being held without bail on various "conspiracy" charges. Civil liberties advocates note that such a charge is termed "the prosecutor's friend", as "conspiracy" often amounts to little more than allegations with no concrete evidence.
At the Powderhorn Park gathering, news of the south Minneapolis raids continued to come in. The raided homes were: Food Not Bombs home, at 23rd Avenue; the Harriet House on 35th Avenue; a home on 17th Avenue, where three arrests were made, including one with no bail for "probable cause".
The search warrant for the raids included such items as: puppets, nails,, screws, electronic equipment fromm cell phones to
I-pods, vegetable oil, and "gray water". A building inspector at the house on 1734-17th Avenue South was said to have ordered the home boarded closed. Minneapolis City Council-members, Elizabeth Glidden and Cam Gordon were being contacted about the raids on homes in their wards.
Longtime activist and south Minneapolis resident Dave Bicking said he observed "Police were taking mattress pads and other items out of the garage" of one of the raided houses.
Another activist said she returned home Friday evening from the St. Paul raid to find her garage broken into. Since expensive athletic equipment remained untouched, while file boxes were strewn about, she felt law enforcement were responsible.
Undercover law enforcement had been at the activists health center and legal assistance space, but, by noon had left.
Ramsey County Sheriffs issued a press statement, that National Lawyers Guild member Jordan Kushner, read to the gathering, which included allegations not substantiated by any specifics, such as calling the RNC-WC "a criminal enterprise intent on criminal acts before and after the Republican National Convention".
"We now know how St. Paul intends to respond to the people exercising our rights of free speech--with an abuse of power, "said one spokeswoman to the crowd of mostly young people at Powderhorn. "But, we also have our power to act and we call on the community to stand with us and condemn these actions. We will not be stopped by these raids. We will be in the streets on Monday."
The press conference will be at 4pm, Saturday, Aug. 30 at the RNC-WC Convergence Center at 627 Smith Avenue South in St. Paul.
http://www.nornc.org
RNC protesters Legal Help Hotline number is: 651.356.8635. Housing of out-of-town activists remains needed. If you can help: Housing Number, 612.419.7809. In order to expedite housing arrangements,we are hoping to shift from the housing board to this number. If you have housing to offer, please email
wc_orientation [at] riseup.net
Lydia Howell is producer/host of Catalyst on KFAI Radio and an
independent Minneapolis journalist.
Eternity
He who binds to himself a joy Does the winged life destroy; But he who kisses the joy as it flies Lives in eternity's sun rise.
William Blake
Friday, August 29, 2008
Bank agrees to stop illegal 'sweeps,' make refunds
California Attorney General Edmund G. Brown Jr. today announced that he has reached a settlement with Citibank after a three-year investigation into the company's use of an illegal "account sweeping" program.
Nationally, the company took more than $14 million from its customers, including $1.6 million from California residents, through the use of a computer program that wrongfully swept positive account balances from credit-card customer accounts into Citibank's general fund, Brown said.
"The company knowingly stole from its customers, mostly poor people and the recently deceased, when it designed and implemented the sweeps," Brown said. "When a whistleblower uncovered the scam and brought it to his superiors, they buried the information and continued the illegal practice."
Between 1992 and 2003, Citibank employed a computerized "credit sweep" process to automatically remove positive or credit balances from credit-card customer accounts.
An account could show a credit balance if a customer double-paid a bill or returned a purchase for credit. The credit sweeps were done without notifying the customer and without regard for whether the customer had any unpaid balances or other charges owed to Citibank.
The credit sweeps targeted more than 53,000 customers nationwide. All of the affected accounts were in a recovery status, which includes accounts of customers who have died, sought bankruptcy protection, or been the target of litigation or other collection efforts by Citibank.
In July of 2001, a Citibank employee uncovered the practice and brought it to the attention of his superiors. The employee was later fired for discussing the credit sweeps with an internal audit team.
In the words of a Citibank executive, "Stealing from our customers is a business decision, not a legal decision." The same executive later said that the sweep program could not be stopped because it would reduce the executive bonus pool, Brown charged.
The attorney general's office launched its investigation of Citibank in 2005 to determine whether the company violated the California False Claims Act by filing false holder reports with the California State Controller that omitted any reference to the swept funds. The 3-year investigation led to today's settlement.
The settlement includes: • Permanent injunction – Citibank will be permanently prevented from re-initiating the credit sweeps. • Refunds to victims – Citibank will refund all improperly swept funds to customers who were victimized by the sweeps. Citibank will also pay California customers 10% interest on the amount taken. • Penalties – Citibank will pay $3.5 million in damages and civil penalties to the State of California. • Compliance audit – After Citibank's refund process is complete, an independent auditor will review Citibank's work to ensure that it has lived up to its obligations.
Citibank has affirmed that it can identify most of the victims of the credit sweeps and has begun the process of reviewing archived account data and refunding the improperly swept funds going back to 1992.
New York Charges
Earlier this month, Citigroup Global Markets, Inc. and Citi Smith Barney have agreed to settle allegations stemming from its marketing and sales of auction rate securities. The firm marketed and sold auction rate securities as safe, cash-equivalent products, when in fact they faced increasing liquidity risk, a number of states alleged.
New York Attorney General Andrew M. Cuomo hailed the agreement as a turning point for investors nationwide seeking relief from the collapse of the auction rate securities market.
"The settlement sends a resounding message to the entire auction rate securities industry: this type of deceptive behavior will not be tolerated and we will actively seek justice on behalf of investors in auction rate securities," said Cuomo. "Our goal is simple: to get investors back their money, and that's exactly what this deal does."
Under the settlement, Citigroup has agreed to buy back, no later than November 5, 2008, all illiquid auction rate securities from all Citigroup retail customers, charities, and small to mid-sized businesses. These customers, who number approximately 40,000 nationwide, have been unable to sell their securities since February 12, 2008. Their securities are worth more than $7 billion.
Citigroup will also:
• fully reimburse all retail investors who sold their auction rate securities at a discount after the market failed;
• consent to a special, public arbitration process to resolve claims of consequential damages suffered by retail investors as a result of not being able to access their funds;
• undertake to expeditiously provide liquidity solutions to all other institutional investors; and
• reimburse all refinancing fees to any New York State municipal issuer who issued auction rate securities through Citigroup since August 1, 2007.
In addition, Citigroup will pay a $50 million civil penalty to the State of New York. The penalty embraces both Citigroup's substantive conduct and its failure to properly comply with its obligations under the Attorney General's Martin Act subpoena.
Citigroup also will pay a separate civil penalty of $50 million to the North American Securities Administrators Association, whose ARS Task Force has been conducting its own series of investigations into the marketing and sale of auction rate securities by broker-dealer firms.
No democracy in Denver
Cops attack protesters at DNC: Emergency news conference exposes gov't terror
By LeiLani Dowell
Denver
Published Aug 27, 2008 9:19 PM
Denver police have used violence and mass arrests in an attempt to silence dissent during the Democratic National Convention. However, organizers and activists have put the city and police on notice that their intimidation tactics will not work.
Several hundred activists were gathered in Civic Center Park on Aug. 25, where the Recreate 68 Alliance (Recreate68.org) has a permit for a week of actions during the DNC. At about 6 p.m., Denver police began massing in groups, encircling the park. Squads then began to march through the park, pushing and kicking people as they passed. One group of heavily-armed police lined up directly across from the Troops Out Now Coalition table.
At about 7:00, a group of mostly young people responded by chanting "No justice, no peace!" The police charged the group, hitting several of them with pepper spray. Attempting to get away from the club-swinging police, the group moved onto Cleveland Street, joined by many others from the park.
Police then closed off both ends of the block, entrapping the group as well as many bystanders. They began hitting people with their nightsticks and using pepper spray and pepper balls.
One young protester, Martin, told the Denver Post, "We moved to the sidewalk—a few people stayed in the street—because we didn't want a confrontation, but it didn't matter. People started pleading: 'Let me go. I want to go home.' ...
"Some of the police on horses were whacking people with their batons. I was told later that the police were telling us to disperse, but I didn't hear them say that. And where would we go? The police were all around us, not letting us leave."
TONC organizer and Navy veteran Dustin Langley was among those trapped on the street between the police lines. He noted that spirits remained high, saying: "Street medics took care of those who had been pepper sprayed, and we shared water and made sure everyone was okay. We continued chanting and singing. At one point, we sang 'Solidarity Forever'. One group of activists chanted at the cops: 'Who do you protect? Who do you serve?'"
After more than an hour, the solidarity of those on the streets and negotiations by Recreate 68 organizers won the release of most of those trapped on the block.
At least 85, however, were placed in metal shackles and arrested. They were denied access to attorneys while at the detention center, and many were bullied into making a guilty plea in order to get released. Martin said, "Now, because of the plea bargain, I'm free but on probation. I can't join any more marches, or do anything illegal in the next six months, or I'll get five days in jail on top of the other charges."
The next day the police continued their attempts to intimidate those protesting the DNC. Heavily-armed police continued to mass around the park, and squads of horse-mounted cops rode through the park several times.
At about 9 a.m., the right-wing bigot Fred Phelps entered the park, spewing a homophobic hate speech. A Recreate 68 organizer, Carlo Garcia, told him to leave. The Denver police responded by arresting Garcia, who has two brothers in Iraq.
When Code Pink organizer Alicia Forrest questioned Garcia's arrest, she was knocked to the ground by police and arrested as well.
Organizers with the Recreate 68 Alliance and TONC called an emergency press conference in front of police headquarters to take a public stand against these tactics and respond to distortions in the corporate media, which portrayed the protesters as the initiators of violence.
Glenn Spagnuolo, one of the cofounders of the Recreate 68 Alliance, put the mayor, police chief and Denver Police Department on notice that he and other organizers are meeting with attorneys to move forward with legal action. He noted several major protest-related lawsuits, such as those in New York and Washington, which have cost local governments millions of dollars.
Larry Hales, a leader of the Recreate 68 Alliance and of the youth group FIST (Fight Imperialism Stand Together), noted that any violence that has occurred was initiated by the Denver police. Recreate 68 demands all police be removed from the park. Hales stated that since Recreate 68 has a permit to hold its activity in the Civic Center Park, the police have no business there.
Other speakers at the press conference included Brian Vicente of the Peoples Law Project; Ben Kaufman, who described the arrest of Carlo Garcia; Sally Newman of Code Pink; and Mark Cohen, a Recreate 68 cofounder, who questioned the role of the Democratic Party in suppressing civil liberties and attempting to silence protest.
Following the press conference, organizers returned to Civic Center Park, where they joined hundreds of activists from around the country determined to continue in the spirit of resistance and protest.
Today finally seemed like the right day to find out what happened to the original Gordon....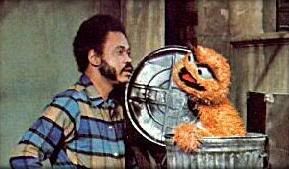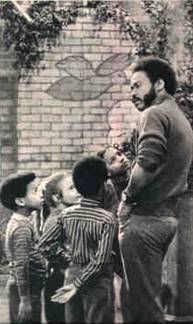 Matt Robinson
From Wikipedia, the free encyclopedia
Matthew Thomas "Matt" Robinson, Jr. (January 1, 1937 – August 5, 2002) was an American actor. Born in Philadelphia, Pennsylvania on New Year's Day in 1937, he was the first actor to portray the character of Gordon Robinson, on the long-running children's TV program Sesame Street. When Sesame Street began in 1969, not only did Robinson play Gordon, but he also provided the voice of the puppet Roosevelt Franklin and also was one of the show's producers. He left the show in 1972. In later years, when producers needed a last name for the Gordon character, then played by Roscoe Orman, they used Matt's last name.
He wrote and produced the films Save the Children and Amazing Grace in the early 1970s, and authored scripts for Sanford and Son and Eight Is Enough. In 1983, he joined the staff of the NBC's The Cosby Show as a producer and staff writer. By that time, he was beginning to show symptoms of Parkinson's Disease, but stayed with the show for seven seasons despite the difficulty; however, he ultimately succumbed to the disease on August 5, 2002 in Los Angeles, California at the age of 65.
He is survived by his daughter, actress Holly Robinson Peete (21 Jump Street, Hangin' with Mr. Cooper, For Your Love), son Matt Robinson III, his wife, Dolores Robinson, and five grandchildren.
Thursday, August 28, 2008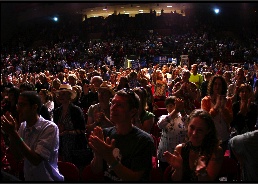 Last night in Denver was a wild party for democracy.
Four thousand people jammed into Magness Arena.
Sean Penn hit it out of the ballpark.
Tom Morello sang a glorious version of Woody Guthrie's This Land is Your Land.
Cindy Sheehan ripped into the dastardly twins (Democrats and Republicans).
Two new supporters came out of the woodwork to support Nader/Gonzalez.
When we asked for donations, Brooke Smith, star of ABC's Grey's Anatomy, rose out of the crowd, took the stage, pledged her support -- and $4,600 -- to the Nader/Gonzalez campaign.
Then we had another convert.
A 21-year-old African American from Phoenix -- Rev. Jarrett Maupin -- gave an eloquent speech as to why he's breaking with the Democratic Party, and vowed to organize the Latino and African American communities for Nader/Gonzalez.
And off course, Ralph laid it on the line, as usual.
Free Speech TV was slammed.
So, few people were able to watch on line.
Our apologies.
But Free Speech TV says they will put up highlights from the rally up on its website soon.
So, take a peek at this amazing show, and then get the DVD (see below).
As you know, we're in the middle of a fundraising drive to raise $100,000 by September 4.
We're off to a great start, hovering around $25,000 in just four days.
But we have to crank it up to meet our goal (we haven't missed one yet -- good job troops).
Let's get it done.
Remember, if you give $100 or more now, we'll send you three DVDs -- the Denver rally, the Minneapolis rally, and a special debate DVD. (Three DVD offer ends September 4 at 11:59 p.m.)
Onward to November.
The Nader Team
AMY GOODMAN: While Senator Barack Obama made a surprise appearance at the Democratic National Convention in Denver last night, he was not the only presidential contender in town. Independent candidate Ralph Nader held a rally on Wednesday at the University of Denver, calling for an end to corporate control over the presidential debates. The longtime consumer advocate is making his third run for the White House.
Nader has been a vocal critic of the policies of both John McCain and Barack Obama. When Obama selected Joe Biden to be his running mate, Nader dubbed Biden the "MasterCard Senator" because of his close ties to the credit card industry. Biden was a key architect of the 2005 bankruptcy law which made it harder for consumers to file for bankruptcy protection. Nader has also criticized Biden for helping to create the modern drug war by pushing the 1986 Anti-Drug Abuse Act.
Ralph Nader joins us here in Denver at Free Speech TV's studios. Welcome to Democracy Now!
RALPH NADER: Thank you, Amy. Actually, it's only three times, run for president, as our website votenader.org points out.
AMY GOODMAN: Why are you doing it this year? A lot of people got angry at you last time, even the time before, though last time was key.
RALPH NADER: It's amazing how people can say that, when in the same breath they will criticize the Democrat and Republican parties for being pro-war parties, pro-corporate parties, pro-military-industrial complex parties.
You know, why are we doing this? We're doing this to give voters a broader choice of agendas and to bring a younger generation in. At our rally last night, it was just magnificent to see young people in their early twenties get up on that stage and, with very articulate performances, show what's coming.
AMY GOODMAN: In fact, it was not only you as a presidential candidate there. Bob Barr was represented in a videotape, and Rosa Clemente, the Green vice-presidential candidate, along with Cynthia McKinney, who is the presidential candidate—
RALPH NADER: Yes.
AMY GOODMAN: Rosa Clemente also spoke. What was the point of your rally last night?
RALPH NADER: The point was, and why we did what almost nobody ever does at the presidential candidacy level, bringing on competitors, so to speak, third-party and independent candidates, is to try to break the grip of this corporation called the Commission on Presidential Debates that the two major parties created in 1987 and control. And they don't want anyone else on the stage, and that means that there's no way to get to tens of millions of people, unless you're a multibillionaire like Perot, no way to get to tens of millions of people, no matter how many states we campaign in, no matter how many giant arenas we fill. It's less than two percent of what we would reach if we were on just one debate. Now, we're at six, seven, eight percent in the latest CNN polls—seven percent in Colorado—with no mass mainstream television media.
AMY GOODMAN: This is the latest poll that came out this week?
RALPH NADER: Yes, yes.
AMY GOODMAN: Explain again. And in what states?
RALPH NADER: In states like New Mexico, Colorado, Minnesota, we're coming in at six, seven, eight percent. NBC national news, ABC national news, CBS national news—total blackout since February 24th. And we're still doing that well. So we could turn it into a three-way race, if we were really on those three presidential debates, or if Google or Yahoo! or veterans' groups, who all wanted to sponsor their own debates and deliver millions of viewers would get the cooperation of Obama and McCain.
It's really interesting to see a difference here. McCain offered ten town meetings to Obama. Obama said no. Google wants a—let's see, a September 18th debate in New Orleans. McCain said OK, Obama said no. A veterans' group coalition out of Fort Hood, Texas, they wanted a debate. McCain said OK, Obama says no. Isn't that amazing?
AMY GOODMAN: Talk about the candidates that—particularly that spoke last night. Yesterday was an interesting scene in Denver. Thousands of people were in the streets protesting, led by soldiers who had returned from Iraq, Iraq Veterans Against the War. They—we're going to play a clip of that protest later. It was mounting pressure through the day, the question of whether the riot police would actually teargas them. They were all lined up. Their helmets were on their face. Coverings were on. But ultimately, Obama's people came out to talk with them, which is actually all they were asking for at that point.
Biden accepted the vice-presidential nomination. You spoke in a different part of Denver. Joseph Biden—what do you think of him as the vice-presidential candidate for Barack Obama?
RALPH NADER: Well, he's going to be, probably, an effective attack dog against the Republicans. But what we call him is "Senator Plastic," because he is the champion of the credit card industry. MBNA is in Delaware. It's a huge credit card company. It's given more than $200,000 to Joe Biden over his career. And he championed, almost shamelessly, the anti-consumer bankruptcy law that his fellow colleague, Senator Chris Dodd, who's the chair of the Senate Banking Committee, called, quote, "the worst bill ever," end-quote.
And what it did, unlike corporate bankruptcy, it really squeezed people who had to go into bankruptcy because of medical bills or because they lost their job, as Professor Elizabeth Warren at Harvard Law School pointed out. Those are the two main reasons for bankruptcy. It squeezed them horribly. And this paved the way for predatory lenders to shift the burden on these hapless borrowers in the subprime home mortgage crisis, as they call it. He's got a lot to answer for. He tries to say he moderated the bill, and it couldn't have been worse.
But he's very corporate. He comes from Delaware, which is in—has always been in a race to the bottom to weaken corporate charter laws, which is why so many of the giant corporations are strangely chartered in Delaware over the years, like the big New York banks or General Motors. We want to use that to raise the whole issue of what Teddy Roosevelt and William Howard Taft were proposing a hundred years ago, which is federal chartering of giant corporations. Take it away from the states like Delaware, rewrite the compact between the people and these artificial entities, and hopefully take away some of the constitutional rights to lobby and to engage in politics of these artificial entities, because they're not human beings, they don't vote, and they shouldn't have these constitutional rights.
AMY GOODMAN: It's interesting. Senator Joe Biden himself is one of the least wealthy members of the Senate.
RALPH NADER: Yes. That's a commendable impression that he's going to give. You know, he's just a working fellow from Scranton, Pennsylvania, takes the train from Wilmington back and forth. And that is commendable. But on the other hand, look who he's standing up for: these giant corporations and the shameless drug war act, with just, you know, mandatory minimum sentences that have filled the jails, so we now have more prisoners in our jails, nonviolent drug offenders, than—per capita than anybody, any country in the world, including China. I mean, we don't send nicotine addicts or alcoholics to jail. Why are we sending people who have drug addictions to jail?
AMY GOODMAN: Well, you are calling on some people to be jailed, but we're going to find out just who those people are—
RALPH NADER: Yes.
AMY GOODMAN: —in a minute. We're talking to Ralph Nader. He's an independent presidential candidate, just held a super rally last night for a number of independent presidential candidates. He's here in Denver and then is headed to St. Paul for a similar rally next week in the midst of the Republican National Convention. We're also going to bring you a piece about the protests that built through yesterday on the streets of Denver. Stay with us.
[break]
AMY GOODMAN: Our guest is independent presidential candidate Ralph Nader. He has run for president three times. Maybe I confused you with Eugene V. Debs. He ran five times?
RALPH NADER: He ran five times, with the statement: better to vote for someone you believe in and lose than to vote for someone you don't believe in and win who will certainly betray you. That's a very, very important thing for voters to consider when they decide what they're going to—
AMY GOODMAN: He was also disappointed with the American people, in terms of activism.
RALPH NADER: Yeah. Yeah, a remarkable statement. A reporter asked him, "What's your biggest regret?" at the end of his great career as a labor leader. And Eugene Debs said, "My greatest regret is that, under our Constitution, the American people can have almost anything they want, but it just seems they don't want much of anything at all."
Fast-forward to 1945. We were the biggest power in the world after World War II. Western Europe was devastated, but those people pushed and got, by law, universal healthcare, decent pensions, living wage, decent public transit, paid vacation, paid maternity leave, paid family sick leave, university free education. They got it, by law.
Sixty-three years later, these two parties, the Republican and Democratic parties, still have not given the American people what people in western Europe got decades ago. So we're trying to raise the expectation level, Amy, of the American people. If they become cynical and withdraw, which is what cynicism does, then they're going to lose their country. These giant corporations that hijacked our government are tearing the heart and soul out of America.
AMY GOODMAN: Dennis Kucinich addressed the Democratic convention. In the news we have from The Hill newspaper—he gave a fiery speech.
RALPH NADER: Yeah.
AMY GOODMAN: He criticized war profiteering, the oil giants, Wall Street, drug companies and, most of all, the Bush administration, which he said invaded Iraq for oil. But Obama staffers redacted one line suggesting Republicans should be jailed. The line read, quote, "They're asking for another four years. In a just world, they'd get ten to twenty."
RALPH NADER: Yeah. I mean, that's the tragedy of Dennis Kucinich. Now, he's done by February or March. The primaries are over. He will not at all support the Nader-Gonzalez campaign. I mean, he doesn't have to endorse us. We can't even get his mailing list. And I say, "Dennis, we're the only people who are going to take your proposals to November."
Imagine the Democrats—in 2004, they were prohibited from criticizing Bush at the Democratic National Convention in Boston, and now, in 2008, they don't want to raise the issue of criminal recidivism in the White House, the most impeachable presidency and vice presidency in our history—torture, incarcerating people without charges, the criminal war of aggression in Iraq, spying on millions of Americans without judicial approval. That's a five-year jail term. That's a first-class felony. So the Democrats are really abandoning the rule of law, abandoning the Constitution and its impeachment provisions. And they ought to be taken into account. But, you know, Dennis got virtually—he got nothing in the platform. They won't give him a comma in the Democratic national platform.
AMY GOODMAN: What do you think needs to in the Democratic platform? What isn't there? What is there?
RALPH NADER: They ignore the need for a massive crackdown on corporate crime, fraud and abuse, which even the mainstream media, Wall Street Journal and others, are reporting. They're allowing a bloated military budget to devour the federal budget away from public works and the necessities of the American people. We have no more Soviet Union. They don't even mention consumer protection in any way. You can't get them to talk about shifting the tax burden to security speculation and things we like the least or dislike the most. You can't get them to do anything, other than homilies and hope and change and all that nonsense, when the central issue of this campaign has got to be the corporate domination of our political economy and our government.
AMY GOODMAN: And so, what you would do if you became president? What are the first actions that you would take?
RALPH NADER: Well, I call them the first-stage improvements. Full Medicare for all—I mean, sixty-some years after Harry Truman proposed it, it's about time. It would save a lot of lives, by the way. A living wage—you know, they don't even talk about living wage. If the minimum wage in 1968 was adjusted for inflation, the way members of Congress do their salaries, it would be $10 an hour. Do you know what the federal minimum wage is? It just rose to this level of $6.55 in July, last month. It's disgraceful. One out of every three—one out of every three full-time American workers is making Wal-Mart wages. You can't provide for the necessities, the barest necessities of your family, that way.
This used to be the party of the working people, Franklin Delano Roosevelt. It's turning into a toady of giant business. They can't ever even use the words "corporate crime" or "corporate welfare" or the taxpayers bailing out crooks routinely on Wall Street and other places around the country. This is a bankrupt party. And Dennis Kucinich, in effect, has been told, "Well, you can have your little speech, Dennis, but you're going to jump in line and salute."
AMY GOODMAN: When you're talking about matters of life and death, John McCain says the US could be in Iraq for a hundred years.
RALPH NADER: Yeah.
AMY GOODMAN: Barack Obama says he wants to pull out a number of the troops within the first sixteen months.
RALPH NADER: Yeah. Well, his military adviser said that means they'll keep 50,000 or more soldiers, US soldiers, in Iraq in the military bases. We have twenty-two military bases in Iraq, and three of them are like the Battleship Galactica.
AMY GOODMAN: What do you say has to happen right away on that issue? What could you do?
RALPH NADER: Six months, negotiate withdrawal, all military and corporate forces from Iraq, continued humanitarian aid, UN-sponsored elections, and negotiating with the Kurds, Shiites and Sunnis, what they did in the 1950s, a certain amount of autonomy within the unified Iraq that they all want.
AMY GOODMAN: I want to tell our viewers and listeners that in the other hour of Democracy Now!—we've expanded to two hours, and if you don't get to see or hear that other hour, you can go to our website at democracynow.org—in that other hour, we played a piece by Democracy Now! correspondent Jeremy Scahill, author of the bestselling book Blackwater. He went on the floor and saw Henry Waxman, the powerful House chair, House Congress member. And Waxman has called on Obama, if he becomes president, to end military contracts with Blackwater.
RALPH NADER: And Obama has indicated that he's simply not going to do that. You know what the dilemma for Obama is? He's inheriting war criminals: Bush and Cheney. In all kinds of ways, they've been committing daily war crimes. At what point does he become a war criminal? If he does not issue executive orders and say no to what the regime has been doing and torture and incarceration and wiretapping and a criminal war, an unconstitutional war in Iraq, that's—he's got to think about that, his advisers have got to think about that, because he is going to inherit and pursue and be culpable for these war crimes.
AMY GOODMAN: Well, I want to thank you very much, Ralph Nader, for joining us. Ralph Nader, independent presidential candidate, longtime consumer advocate and corporate critic, he is running for president for the third time on the Independent ticket. Last question: why not the Green Party ticket? Why didn't you go for the nomination? Cynthia McKinney won that nomination.
RALPH NADER: Because it's just too disorganized. They can't—they can't put it together. They bicker a lot, and they drive out a lot of good Greens who want to focus on agendas. I wish them well. I wish Cynthia McKinney well. I wish people would continue to support us and send contributions to votenader.org. But the liberal, progressive press, if they do not support those of us who are taking their agenda inside the presidential election arena—a propos my letter to Jim Hightower, Bill Greider and Bob Kuttner—they're going nowhere. They're just whistling in the dark. And most of them, with the exception of John Nichols, have been ignoring or actually undermining the Nader-Gonzalez campaign. So we're going to generate this kind of debate within what I like to call the liberal intelligentsia.
AMY GOODMAN: Ralph Nader.
By Mario Osava
RIO DE JANEIRO, Aug 28 (IPS) - A Brazilian Supreme Court hearing on a landmark case got off on a positive footing for the indigenous people who live in the Raposa Serra do Sol reservation in northern Brazil. The Court, which will set an important legal precedent when it decides the fate of the reservation in the Amazon jungle along Brazil's northern border, delayed the final decision when one of the judges asked for a recess to further investigate the case, on the first day of the hearing Wednesday. Magistrate Carlos Ayres de Britto, the first and only judge to have voted so far, used the Portuguese word "esbulho" (dispossession or unlawful possession) to describe the occupation of parts of the reservation by non-indigenous landowners who want to break up the 1.7 million hectare reserve in order to hold on to the land that they farm. The demarcation of the reservation as one continuous tract of land in the state of Roraima, on the border with Venezuela and Guyana, was signed into law in 2005 by President Luiz Inácio Lula da Silva. In his vote, Britto rejected the complaint brought by two senators from Roraima state with the backing of local government authorities, landowners and even factions of the indigenous groups. He said the reservation must remain intact in order to live up to the constitutional rights of the 19,000 members of five indigenous groups who share the territory. The Supreme Court ruling will be decisive not only for the people of Raposa Serra do Sol but for a large part of the indigenous people living in areas disputed by landowners and ranchers in Brazil. Native groups, indigenous rights activists and environmentalists fear that a verdict in favour of breaking up the reservation could also open up to legal challenges dozens of other indigenous territories that have already been demarcated. The position taken by Britto, who spoke for nearly two hours, represents more than just one vote on the 11-judge panel. The next magistrate in line to vote, Carlos Alberto Direito, asked for more time to look into the case, after praising Britto's broad knowledge of the matter. The president of the Supreme Court, Gilmar Mendes, said he hoped a verdict would be handed down before year-end. The legal challenge to the demarcation of Raposa Serra do Sol defends the "acquired rights" of landowners, mainly rice farmers, who lay claim to property within the reservation. Joenia de Carvalho, the first female indigenous lawyer to make a presentation at a Supreme Court hearing, said the farmers, who she described as "invaders" of traditionally indigenous areas, have caused land conflicts in the reservation in which "21 leaders have been killed and many houses have been burned down." Since 1996, these "supposed owners" have had no right to the land they occupy, said Britto, who said the unlawful possession of the land was proven by notary records that show irregular growth of the property in the hands of the landowners by means of murky sales, mergers and divisions in the 1980s and 1990s. Former Supreme Court justice and foreign minister Francisco Rezek, representing the Roraima state government, accused the federal government of demarcating Raposa Serra do Sol in an irresponsible manner and of reducing the area under jurisdiction of the state government to just 10 percent of the total, which he said left little land for agriculture. But Britto argued that the 121,182 sq km -- equivalent to three other Brazilian states that are home to 22 million people -- of land in Roraima outside of the indigenous reserve and other federal land is more than enough territory for the "less than 400,000 non-indigenous inhabitants of the state." The judge also said the anthropological studies on which the demarcation of the reservation was based were sound and widely recognised, and were not questioned for years after they were published. The studies show that "only a continuous territory ensures the rights of physical and cultural reproduction and integral maintenance of customs and traditions" of indigenous groups, Britto added. The five indigenous groups, who have lived in that area free of conflict for at least 150 years, have mingled and speak related languages, and the areas where they have traditionally lived border each other to form one continuous territory that should not be separated into "islands," which would be unconstitutional, said the magistrate. He argued, furthermore, that indigenous lands and border areas are "perfectly compatible" -- a reference to the argument set forth by landowners in that area and even members of the military that the fact that Raposa Serra do Sol is on the border poses a threat to security and national sovereignty. History shows that the presence of indigenous people along the border has helped defend the country's frontiers, and the constitution itself recognises private ownership of land along borders as "fundamental to defence," he said. To those who express fears that indigenous groups will assert themselves as independent nations with foreign support, based on the United Nations Declaration on the Rights of Indigenous People, Britto said the Brazilian constitution has adequate provisions to prevent this. He also said the constitution is the best possible instrument for defending the rights of native groups.
...
Waxman's call comes as newly revealed federal documents obtained by USA Today show US spending on armed private contractors like Blackwater is on the rise. This year alone, the US State Department will spend more than a billon dollars on armed contractors. That's a 13 percent increase from 2007. A State Department official revealed contractors "will increasingly take over…former military roles and missions, increasing [the] numbers of private security."
As Barack Obama prepares to make the war in Iraq a centerpiece of his campaign against John McCain, serious questions remain about what Obama will do with this massive private shadow army in Iraq. Democracy Now! correspondent Jeremy Scahill filed this report.
JEREMY SCAHILL: When you talk to people here at the Democratic National Convention in Denver, it's taken as a fait accompli that, if elected president, Senator Barack Obama is going to end the Iraq war swiftly.
SEN. BARACK OBAMA: I've been against it 2002, 2003, 2004, '5, '6, '7, '8, and I will bring this war to an end in 2009, so don't be confused.
JEREMY SCAHILL: But it's not hard to be confused by Senator Obama's statements on Iraq. Cut through the fiery rhetoric, and the devil is in the details. While Obama's plan starkly differs from that of his rival, John McCain, Obama's Iraq policy in reality is one of downsizing and rebranding the occupation, not entirely ending it.
One aspect of Obama's Iraq plan that has received little corporate media attention is what he plans to do with for-profit war corporations, particularly mercenary companies like Blackwater. While Obama has consistently been very critical of these companies, calling them unaccountable, above the law, and a danger to US troops and Iraqi civilians, his own Iraq plan will necessitate using them in Iraq. Indeed, one of Obama's senior foreign policy advisers told me earlier this year that Obama, quote, "cannot and will not rule out using these companies."
Obama representatives say he will not sign onto legislation sponsored by Representative Jan Schakowsky and Senator Bernie Sanders to ban the use of Blackwater and other armed contractors in US war zones. Obama's running mate, Joe Biden, has not signed onto the legislation either. Instead, Obama has sponsored his own legislation that seeks to regulate the industry and hold contractors accountable under US law.
He articulated his position in a brief interview with Democracy Now! in March.
SEN. BARACK OBAMA: Here's the problem: we have 140,000 private contractors right there, so unless we want to replace all of or a big chunk of those with US troops, we can't draw down the contractors faster than we can draw down our troops. So what I want to do is draw—I want them out in the same way that we make sure that we draw out our own combat troops. Alright? I mean, I—

AMY GOODMAN: Not a ban?

SEN. BARACK OBAMA: Well, I don't want to replace those contractors with more US troops, because we don't have them, alright?
...
On August 27th at around 10:30am, 5-6 police officers from three agencies made their way into the Long Haul Infoshop in Berkeley, broke down every door, and confiscated all computers on the property. Computers taken included those used by the
Slingshot Collective
and East Bay Prisoner Support. Police also broke into cabinets, cut locks, and went through mail.
People arrived after being informed of the situation, and demanded that the police show a warrant. The police said they would show one once they were done, and they did. Both
CopWatch
and
The Berkeley Daily Planet
were there to cover the incident. The departments involved were 4 UC Berkeley cops, 1 Alameda County Sheriff, and 1 Federal agent. The police stated that the computer equipment "may have been used to commit a felony." This is the first time the infoshop has been raided.
by Rick Smith
The following is Part 1 of an edited and enhanced radio interview conducted in August 2008 with Dr. Doug Morris, Eastern New Mexico University Department of Curriculum and Instruction.
Rick Smith: One of the things I love hearing about is what is happening in other countries. I like to hear from the inside and I like to hear different opinions. This is why we have our next guest, Dr. Doug Morris, from Eastern New Mexico University. He just returned recently from Cuba, and I am always interested and fascinated to find out what goes on in the closed-arena there. Why did you go? I can't go, as far as I know… how did you get there?
Doug Morris: I went as part of the "Research Network in Cuba Group," sponsored by the US based "Radical Philosophers Association." The group does research in Cuba and participates in a yearly conference at the University of Havana as part of that research, and shares that work back here in the US in various academic and public settings. A number of the participants travel back and forth to Cuba numerous times over the year to carry out research and to keep open lines of communication, for example around socialist economics and agriculture. The group travels legally on an academic research general license provided by the US State Department. There are different categories for research and legal travel to Cuba, including journalistic research, so one would guess that you would be able to obtain a license to do "legal" journalistic work and research in Cuba. We should add that it is not Cuba that is trying to keep US citizens out of Cuba; rather, it is the US government that is violating our Constitutional right to travel.
I should also say that the reasons for going to Cuba are many and also share that I am not an expert on Cuba. Cuba is not my primary area of academic interest but more peripheral. Cuba remains a source of interest and inspiration mostly because Cuba is attempting to carry out a social project outside of the global neoliberal model, a neoliberal model that places profits first and is a source of many global calamities and much human suffering. Cuba's project, filled with contradictions and struggles, is working to ensure that people come first. Cuba remains an inspiration because they have accomplished so much under very trying conditions and circumstances, not least of which is the presence of the hostile global behemoth just to the North.
Cuba, as one Cuban scholar pointed out, always "walks on a razor's edge, and does so in a world that stands on the edge of a precipice." In other words, Cuba, always struggling to survive, is often forced to pursue policies against their basic commitments, but they must survive, and they are trying to survive as a socialist island in a rising sea of neoliberal abominations. There is no rule book available for revolutionaries so they can simply open to page 155 to find the answer to the latest dilemma. Cuba, though it walks on a razor's edge, is an inspiring source of alternative political, economic, agricultural and pedagogical knowledge that we, standing on the precipice, so desperately need as we now face ever-growing global threats through climate change, ecological catastrophes, growing poverty and inequality, food and hunger crises, water shortages, political authoritarianism, corporate tyranny, and an increasingly militarized globe. So, Cuba has been designated the only sustainable society in the world by the World Wildlife Fund, and that is of great importance at a time when a sustainable human future is in serious question.
As to Cuba being a "closed-arena" one must be careful on how that gets interpreted because people in the US will use that to intimate that Cuba is some kind of Stalinist society in which people lack all freedoms, where everyone lives under constant surveillance and fear, where people are abducted from the streets in the middle of the night if they disagree with State opinion, where people are sent off to torture camps, etc. But that is not the case in Cuba, although one might draw links between what was just described and the US base at Guantanamo, a real core of human rights abuse on land that belongs to Cuba but is occupied by a US Naval base. The "closed-arena" in Cuba is partially a myth created by US propaganda in order to keep the US population distanced from understanding what really happens in Cuba, and partially a consequence of Cuba living constantly under the threat of US aggression, a situation that compels certain forms of centralized control and suspicions that may occasionally result in forms of repression beyond that which one could support.
One might ask why US power is interested in keeping US citizens from understanding what is happening inside Cuba, and I would argue that the primary reason is that Cuba is working to carry out an experiment in economics and politics that puts human interests and well-being first, is committed to ecological rationality and sustainable agriculture, and assumes that there are sets of human rights that should be honored, for example, the rights to food, health care, education, housing, employment, access to culture, sports, participation, etc. Cuba sees these rights as basic to human needs, and they should not therefore be available only to those who can afford them in the market. The problem with Cuba from the perspective of US power, I would say, is that if Cuba succeeds in carrying out this people-first experiment in politics and economics, it will demonstrate the legitimacy of what in Cuba is called "people's power." The Cuban revolution violated 150 years of US policy and belief as expressed in the Monroe Doctrine, i.e., US power owns the hemisphere and US power will determine who does what and in whose interests, etc.
Soon after the Cuban revolution the Kennedy Administration made it clear what the problem was. The Cuban model, they suggested, was providing a source of inspiration for people across the hemisphere who had been robbed and exploited for hundreds of years, people who now might want to follow the Cuban example and take matters into their own hands to advance their own interests and live lives outside of misery, poverty and despair. Of course, if that interferes with profits and power concerns, that is intolerable from the perspective of US power. So, one of the central problems with Cuba from the view and interests of US power is that Cuba can show that a society can be run by the people through various interactions between formal and informal democracy, between participatory and representative forms of democracy, and, crucially, Cuba can demonstrate that a society can be run in the interest of people without resorting to a profit-based and tyrannical economic system.
And, secondly, the threat of US aggression is very real as history has demonstrated quite clearly. More than 200 years ago, John Adams argued that Cuba is a "natural extension of the US," and that Cuba should be annexed by the US. Jefferson wrote that "Cuba [is] the most interesting addition that can be made to our system of states," and John Quincy Adams referred to "the inevitability of the annexation of Cuba," suggesting that it would eventually fall into US hands by the laws of political gravity, like "a ripe fruit." In the 1850s, the US Ostend Manifesto warned against Cuba becoming "Africanized [like Haiti]… with all the attendant horror for the white race." In addition, of course, were commercial interests, and by the 1880s Cuba was a key US commercial "partner," especially around sugar. The US provided 70% of the Cuban market. Prior to the US intervention in Cuba's second war of independence, the US undersecretary of war, J. Breckenridge wrote that Cubans were incapable of managing their own society, that they had only "a vague notion of what is right and wrong," and therefore the US should "destroy everything within our cannon's range of fire, impose a harsh blockade so that hunger runs rampant, undermine the peaceful population, and decimate the Cuban army."
In 1901, the US forced the Cubans to accept the Platt Amendment, still used to "justify" the US military base at Guantanamo Bay. It also gave the US the "right" to intervene in Cuban affairs anytime to "preserve Cuban independence" (but not independence from US intervention, of course), and to protect life, liberty, and crucially property. The US acted on the amendment in 1906 and militarily occupied Cuba until 1909. From 1901 until 1959 and the triumph of the revolution that overthrew the US backed Batista dictatorship, Cuba, in Robert Scheer's words "was more of an appendage of the US than a sovereign nation." Most of the land and resources was under various forms of US control.
The US has, for close to fifty years now, been hostile to the Cuban revolution, has wanted to reestablish US domination over Cuba, and has engaged in outright military aggression, economic strangulation of multiple sorts, endless forms of terrorism, biological and chemical warfare attacks, diplomatic maneuvers to isolate Cuba, introduced legislation such as the Helms-Burton Act and the Torricelli Bill to punish Cuba and other countries that deal with Cuba at a time when Cuba was in dire straits and in need of serious assistance not further punishment, sponsored people who carried out bombing attacks in Cuba or blew-up a Cuban airplane (killing all on board), planned dozens of assassination attempts against Cuban leaders, engaged in widespread propaganda attacks around the world against the Cuban experiment (a good portion of it through US embassies), funded anti-Cuban think tanks, etc.
We should also keep in mind, that if we consider the definition of terrorism to be "the use of force and violence, or the THREAT of force and violence, to intimate, coerce or control, in order to advance ideological, political, religious or economic interests," a close paraphrase of the official US definition, then the US is engaged in terrorism 100% of the time because the announced policy of its willingness to not only attack anyone, anywhere, anytime for any reason, made formal in the 2002 National Security Strategy of the United States, and demonstrated in the illegal US attack against Iraq, but the US also reserves the "right" to use nuclear weapons in a first strike. That means the US is always engaged in the THREAT to use force and violence around the world, i.e., always engaged in terror. Cubans are well aware of this, and we should be too.
The continuing hostility against the Cuban revolution is grounded, arguably, in three main considerations. The first is the commercial and financial losses for US business interests in Cuba. The Wall Street Journal referred to the revolution as a "watermelon." The more you slice it "the redder it gets." For example, Cuba nationalized the oil refineries. Cuba had signed a trade deal with the Soviet Union in early 1960, and it included Soviet crude. At the command of the US government Texaco and Standard Oil refused to refine the crude, thus forcing Cuba to nationalize the refineries. Nationalizations were carried out with offers of compensation based on the reported assets and earnings provided by the companies in their official record. These assets and earnings were typically underreported in order to save on taxes.
The second is Cuba's commitment to pursue a course of economic, political and social development that is independent of US hegemony, and the concomitant threat that the Cuban revolution could provide inspiration for others in the region to challenge US domination.
Advisor to JFK, Arthur Schlesinger stated that the problem with the Castro regime, i.e., the Cuban revolution, was that it represented a successful resistance to US hegemony, and that defiance undermined 50 years of US policy in the region. In other words, the Cuban revolution was providing an emancipatory opening for people to move beyond subservience and subjugation. In short, as the Administration said, "the poor and underprivileged [i.e., exploited] might demand opportunities for a decent living," and that is simply unacceptable. The Kennedy Administration responded to this "threat" by implementing the "Alliance for Progress." Interestingly, about ten years after the Alliance began, a major US study demonstrated that Cuba, the one country excluded from the Alliance, was the only country that had achieved what the Alliance purported to be carrying out, for example, advances in public health, education, transportation, as well as the integration of rural and urban sectors.
And, the third is Cuba's commitment to international solidarity, revealed in Cuba's international projects in medicine, literacy, and agriculture, as well as "Operation Miracle," through which more than one million people have been treated to restore their vision. Cuba demonstrates that international relations can be built on solidarity rather then exploitation, domination and aggression. And then there is the matter of people's power, i.e. people taking matters into their own hands.
RS: What was the purpose of the conference in Cuba?
DM: The purpose of the conference includes efforts to build bridges of solidarity and understanding between Cuban and US academics and Cuban and US citizens. The conference itself revolves around different areas of research including research in economic matters, philosophical issues, education, agriculture, various forms of social organization, history, projections about what kind of future we should struggle for, the role that civil society plays in creating popular empowerment in Cuba and the role that civil society could play in producing citizen empowerment in the United States, etc.
RS: Would you say we are not politically empowered in the United States?
DM: I would argue that the Cuban population is much more politically empowered than the population in the United States for a fairly simple reason, one that is surely considered a controversial perspective by many people in the US. Cuba has a much different, more wide-ranging and stronger concept of democracy than we have in the United States.
In the United States the notion of democracy basically stops at the most elementary, rudimentary and least developed form of democracy, electoral democracy. Every two or four years, people are permitted to vote for a set of candidates who are essentially pre-selected by the owners of society, the business class. Anyone who challenges the interests of the owners is essentially marginalized or excluded from serious consideration. The case of Dennis Kucinich demonstrates this rather clearly. We vote for one or another of the corporate-sponsored candidates and very little changes in terms of the public interest being advanced, in terms of public well-being improving, in terms of pursuing the overall public good, in terms of the public developing capacities, resources and knowledge to meaningfully and effectively shape politics in ways that represent real public concerns, such as universal health care, environmental protection, a political system that responds to public concerns, better education, less militarism, infrastructure repair and development, a fairer economic system, etc.
Electoral democracy in the US generally produces a form of competition limited to major parties funded by wealthy elites and the corporate sector, and while public interest and enthusiasm, in some sectors, can be temporarily elevated by the hyper-spectacles that are regularly presented during campaign season, the barrage of PR materials, or by the constant repetition of largely empty slogans around "hope" and "change," the final result is that very little of substance changes in regards to policies that promote, represent or fulfill public interests, needs and concerns, or stimulate public empowerment.
The public is largely aware of this sham, and that is surely one reason why participation in electoral democracy is so low in the US. In electoral democracies, voters vote every two or four years, with virtually zero input into policies and programs, but as George Soros makes clear, "markets vote every day," suggesting that without meaningful forms of democratic participation in the economy and in social arrangements, democracy remains a largely empty and formal vessel, a shadow that hides the substance of power and decision making which lives and works largely at the corporate level.
In Cuba, I would suggest, they have extended the idea of democracy beyond electoral democracy (they do have elections in Cuba, contrary to what we have been taught in the US), to include political democracy, which is the beginning of more participatory forms of democracy, as well as social democracy and economic democracy. So, elections in Cuba are not funded and controlled by elites but organized by the people.
RS: Wait a second, how it that possible? Castro has been the leader their for a long time; is he being elected? What I keep hearing is that he is a communist dictator.
DM: Cuba, as I understand it, is carrying out an experiment, and this has to be emphasized, what is happening in Cuba is an experiment being carried out under extremely harsh conditions not of their own choosing. Still, it must be said that Cuba exhibits none of the chronic human abominations one witnesses in most other countries of the region: there are not droves of homeless people rotting in gutters, no children starving, no mass illiteracy, no high levels of infant mortality or unemployment, no death squads roaming the countryside, no monstrous inequalities, no high levels of political and social instability, etc. There is a housing crisis, but there are programs underway to address the housing crisis. For example, in 2006 Cuba constructed roughly 110,000 new houses, and in 2007 roughly 67,000 new houses. They project that if they can average 50,000 new houses per year for ten years, they will have addressed the main issues of the housing crisis, and they are on target to meet those expectations.
What they are attempting to do in Cuba is mobilize the collective intelligence and imagination of a population of people to manage and run the society and they are doing it through a combination of participatory and representative democracy organized through local and national political organizations such as the Youth Communist League with roughly 800,000 members of young people between the ages of 14 and 30, the Communist Party of Cuba with roughly 1.5 million members (it should be noted that the Party is not an electoral party, that is, the Party does not participate in the nomination or election of political candidates at the local, provincial or national levels of assembly elections, nor can the party propose legislation in the representative political bodies; this is not to say that the Party lacks influence in Cuban politics, it is clearly very influential across Cuban society in its role as sort of protector and stimulator of socialist consciousness and in encouraging people to, as they say, "Be like Ché," which essentially calls for developing a concern for and a commitment to the collective good and a willingness to make sacrifices for the collective good).
Then there are the mass organizations that include the Committees for the Defense of the Revolution, the Women's Federation, the Worker's Unions, Student Federations at the University, Secondary and Elementary school levels, professional organizations and the organs of the state which include judicial bodies, the armed forces, the Organ's of People's Power that include the National, Provincial and Municipal Assemblies, and the Popular Councils that serve as a bridge between neighborhoods and Municipal Assemblies, the Council of State, and the Working Commissions of the National Assembly of People's Power. The National Assembly has legislative authority and the delegates to the assembly are elected by the Cuban electorate. The National Assembly chooses from among the members of the Assembly the Council of State. The Council of State is then responsible for selecting the Council of Ministers.
As I understand it, the Council of State selects a president, but the president must first be nominated at the level of his local municipality in order to achieve the status of National Assembly representative who then moves into the Council of State, etc. Furthermore, as I understand it, the status of President does not accord any dictatorial powers, but it does provide the opportunity for the President to present arguments for or against any piece of legislation. There are numerous cases over the years in which Fidel argued one way and others argued the other, and Fidel's position did not carry the day. Legislation and decrees must be ratified by the National Assembly. Fidel's status, or now Raul's status, provides a symbolic and influential power in Cuba that others may not have by virtue of their participation in the Cuban revolutionary struggle since the early 1950s, in particular since the attack on the Moncada Barracks in 1953, 55 years ago this July 26th.
At the same time, one should note that there has been a significant turnover in the Cuban political system over the last decade or so, and many of those running the system are in their 30s and 40s. The creation of the Popular Councils in the early 90s, in the early years of the Special Economic Period (after the Soviet Union collapsed and Cuba lost roughly 85% of its trade overnight), was carried out as a bulwark against centralization and bureaucracy and as a way to enhance local government power and popular participation. Candidacy Commissions, made up of people from the mass and popular organizations and presided over by members of the worker unions were established to organize the provincial and national assembly elections. Their primary purpose is to ensure a fairer representation from across the populace. In other words, the citizenry is involved in both nominating and electing its representatives. Provincial and national elections are held every five years, and municipal elections every 2½ years.
Roughly half the representatives in the National Assembly are from the Municipal Assemblies and the other half are comprised of national figures who are politicians, scientists, intellectuals, artists, athletes, workers, etc. Of particular interest to the audience for this program in the US, "where working people come to talk," is the role of unions in Cuba and the worker assemblies. Isaac Saney, in his book, A Revolution in Motion, describes how Cubans are involved in an intense political learning process and how "the system responds to popular demands for adjustment."
In 1993, during some of the worst times of the Special Economic Period when the Cuban economy was in the gutter, and Cubans were suffering, the National Assembly wanted to introduce a tax on wages. Union representative opposed this proposal on the grounds that the workers had not had an opportunity to discuss and debate the measures. The National Assembly thus delayed any action until the worker's parliaments could meet. There were three months of meetings, over 80,000 meetings, involving over 3 million workers where these matters were discussed and debated, and new proposals were offered. National policy reflected worker views. When the new tax law was finally passed the taxes were primarily on the self-employed rather than on wage workers. This is one example that demonstrates how mass consultations and input from citizens distinguish the Cuban experiment from other countries.
All Cuban citizens can vote upon turning 16, and they can be nominated by fellow citizens in local popular assemblies at the age of 18. So, people are nominated in neighborhood mass assemblies at the local level to serve in Municipal Assemblies. It is a process of consultations and dialogues within popular and community organizations. We should also note that
Cubans possess the capacity to recall the representatives they elect if it is determined that the performance of the representative is unsatisfactory. This Cuban right is carried forth in periodic meetings, sort of accountability sessions with constituents, where representatives report on their work.
Let me return to the point of moving from electoral democracy to political democracy, and then from there into social and economic democracy. Democracy becomes more engaging politically when forms of effective and more participatory political representation are permitted and encouraged. In short, where there is established public controls on the financing of elections, not private control by those who own the society; where access to vital information is available and accessible rather than the kinds of limited access we experience in the US through the dominant corporate media where we very seldom learn what public opinion really is and only see it refracted through corporate interests; where the role of lobbies is constrained (so in the US the oil lobby spent roughly $83 million last year and will probably surpass that figure this year in attempts to direct legislation and voting their way…the pharmaceutical industry, the Chamber of Commerce, Phillip Morris and General Electric are near the top of lobbyists working to ensure that policies are endorsed and legislation passed to protect and promote private power, corporate profits and wealth for the privileged…), so lobbying would be constrained except to the extent that lobbying is carried forth in the public interest not to promote private power and wealth.
Political democracy also would be a form in which legislative bodies are empowered to carry out the will of the people, by the people and for the people; with the people having opportunities to recall candidates who are not serving the interests of the public; where there are instruments through which the public can express its interest and concerns through forms of collective consultation, dialogue, discussion and referenda; and where there are more equitable and responsible distributions of power. To some folks in the US this "of, by and for the people" notion of democracy would sound crazy, but it does reflect a rather Lincolnesque notion of democracy and that is as American as apple-pie, yes?
Democracy becomes more meaningful when politically engaging forms are combined with electoral forms in the context of social forms that recognize citizenship as a component of a social contract in which rising standards of living are measured through how well the society provides access to basic services and needs around food, recreation, education, social security, health, housing, arts, and transportation. In short, effective citizenship is rooted in social justice, a de-commodification of society, as well as equality of rights and conditions because people are fundamentally citizens in a participatory democracy rather than consumers in a profit based and undemocratic and dehumanizing market system.
Basically, in a social democracy needs are not satisfied through the ability to purchase commodities but are seen as a social right and duty. This form of social democracy eliminates the rampant exclusionary prejudice present in commodified markets where goods, needs and services are available only to those who have enough money and power for purchase rather than being available to all by virtue of their condition as citizens and human beings living under a mutually fulfilling and responsible social contract. This is the de-commodification mentioned above. In the United States, all of the goods and services mentioned above, from food, to health, to education, to sports, etc. are not available to people as a human right, but are seen as a privilege and available only to those who can purchase them on the market. I would suggest that is very anti-democratic and it has the consequence of dehumanizing people and social relations because too many people lack the ability to have their needs satisfied and they don't live in a culture dedicated to fully developing their capacities.
Subscribe to Posts [Atom]