Wednesday, May 09, 2007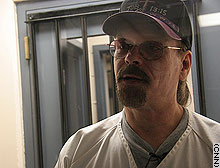 Just hours before his execution by injection, a Tennessee death row prisoner who was convicted of killing a police officer ordered his final meal -- pizza for a homeless person.
Philip Workman, 53, requested a vegetarian pizza be delivered to a homeless person in Nashville, Workman's attorney confirmed.
Riverbend Maximum Security Institution refused, said Riverbend spokeswoman Dorinda Carter.
"We can get some special things for the inmate but the taxpayers don't really give us permission to donate to charity," Carter said.
According to the state's protocol, a last meal's cost cannot exceed $20.
Workman was executed early Wednesday.
Subscribe to Posts [Atom]