Friday, March 19, 2010
"When you do a competent, aggressive job, it's something government can't tolerate."
Herb Denenberg, 80, longtime consumer advocate
Herbert S. Denenberg, 80, who transformed an obscure state office into a high-profile platform for consumer-advocacy and went on to become a local media legend, died Thursday at his home in Wayne.
Mr. Denenberg had not been ill and apparently suffered a heart attack, said his wife of almost 52 years, Naomi.
As Pennsylvania insurance commissioner in the early 1970s under the late former Gov. Milton J. Shapp, Denenberg helped revolutionize the auto-insurance industry by championing the "no fault" concept.
Mr. Denenberg became a household name for his firebrand approach and his various "shoppers' guides" - plain-English explanations of complicated insurance concepts.
With his signature oversize glasses on a face that always seemed too big for his diminutive body, Mr. Denenberg later became a fixture on local television. His acidic, animated reports and critiques skewered a wide variety of products and public issues. He was rewarded by winning 40 local Emmies.
"He wasn't afraid of taking on anybody, any politician, any company, any multinational," said Gov. Rendell. "He didn't care. If he thought things had to be changed he went after it with a vengeance."
Said activist Ralph Nader, a friend for over 40 years, "He was a great consumer advocate."
Nader said that he first came in contact with him in the late 1960s after reading an academic paper on insurance that Denenberg had written while a professor at the University of Pennsylvania in the late 1960s. Nader said Denenberg clearly knew his subject and that he had ambitions beyond the academic press.
"He decided he wasn't just going to write for 100 specialists," he said. "He became a real hell-raiser. His was a hell-raising language, but his mind was a steel-trap academic mind. You rarely get a combination of the two.
"He helped expand the definition of what the public should expect from an insurance commissioner," said Nader.
Denenberg later was appointed to the Public Utilities Commission but left state government in 1975 after the legislature failed to confirm him as a permanent member of the commission. "I think I'm permanently disqualified for government service," Denenberg said at the time. "When you do a competent, aggressive job, it's something government can't tolerate."
"Here was a guy who was the system, protesting so effectively against it," recalled Inquirer reporter Howard S. Shapiro, author of a 1974 biography on Denenberg, How to Keep Them Honest. "That was remarkable."
After leaving Harrisburg, Denenberg began a new career as gadfly in 1975. For more than two decades he was a consumer reporter and commentator on Channel 10, covering subjects as varied as asbestos in schools to the questionable sanitary qualities of pretzels sold by street vendors.
"He really, really was one of a kind," said Ed Dress, his producer for 17 years. "When you were sick and tied of something, he was just getting started."
In 1984, the trade journal Adweek wrote, "If there were an award for best consumer reporter in the Northeast, WCAU's Herb Denenberg would take it in a walk."
After departing Channel 10 in 1998, Mr. Denenberg continued to write consumer columns for several newspapers, including the new version of the Philadelphia Bulletin.
Mr. Denenberg was born, fittingly, in the insurance capital of Omaha, Neb., in 1929. His Russian-born father and Romanian-born mother raised eight children. His father died when he was 12, said Naomi Denenberg, and young Herb helped take care of his siblings.
He once related that he had a life-changing experience while working at a meatpacking house in Omaha. "I was appalled at the filthy working conditions," he said. "You'd go into the company cafeteria and it was just unbelievable. ... The spoons were nicked all over and incredibly filthy. You'd go in there, there'd be slop on the floor and it was never cleaned up." He complained to his employers, who did nothing.
"The meatpacking house had a very profound impact on me. I remember saying to myself, 'I've really got to excel, I have to succeed. I have to be number one. I just can't run the risk of spending the rest of my life in a place like this meatpacking house.'"
After graduating from Omaha Central High, he attended the Universities of Nebraska and Chicago, received law degrees from Creighton and Harvard University and a PhD. from Penn.
While serving in the Army, his widow recalled, Denenberg also studied biology at Johns Hopkins University, where he had another life-changing experience.
One day the class was dissecting frogs, something for which the woman sitting across from him had no stomach. Herb Denenberg said he would do it for her.
That woman, Noami Glushakow, became Mrs. Herb Denenberg.
In addition to his wife, Mr. Denenberg is survived by two brothers, Dr. Michael and Norman, and a sister, Anne Feinberg.
He is predeceased by four brothers, Marshall, Warren Dr. Daniel, and Bernard.
Services will be private.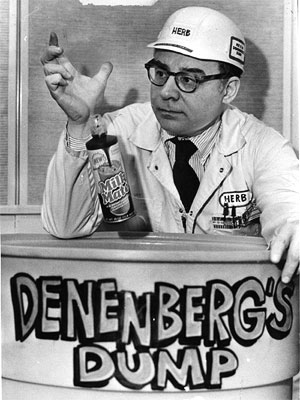 Subscribe to Posts [Atom]